This article was originally published on Silicon Angle
As the world becomes more digital as the coronavirus pandemic forces many to work remotely, companies and individuals need to share more and more data. This sharing can be more efficient if the data and the sources that provide it are confirmed, verified and trusted.
That's why computing giant IBM Corp. is betting on blockchain as a solution for now –and for the future.
"Blockchain brings a platform for trusted data exchange while preserving privacy," said Jerry Cuomo (pictured), vice president of blockchain technology at IBM Corp. and an IBM fellow. "And that provides a foundation to do some amazing things in this time of crisis."
Cuomo spoke with Dave Vellante, host of theCUBE, SiliconANGLE Media's mobile livestreaming studio, during the IBM Think Digital Event Experience. They discussed the importance of blockchain in the digital world, as well as some applications of the technology during the coronavirus pandemic. (* Disclosure below.)
Combating supply shortages using blockchain
IBM was one of the first blockchain providers and has more than 1,000 customers now using its IBM Blockchain Platform, which is powered by The Linux Foundation's open-source Hyperledger Fabric. Among these users, more than 100 have created production networks, according to Cuomo.
"It's been great to see some of the proprietors of those networks now repurpose the network's towards hastening the relief of the COVID," he said.
One of the applications of blockchain during the pandemic has been to combat supply shortages. Because of the lockdown caused by the crisis, some suppliers were left without key goods, and buyers realized the need to expand the network of providers of these products very quickly. However, current laws and regulations can cause a new supplier's integration into the network to take many weeks.
"In IBM, for example, we have over 20,000 suppliers to our business, and it takes 30 to 40 days to validate and verify one of those suppliers," Cuomo said. "We don't have 30 to 45 days … think about a healthcare company or a food company."
To shorten this process, IBM used the Trust Your Supplier blockchain-based identity platform built by Chainyard Supplier Management Inc.
"If they [suppliers] are part of the Trust Your Supplier network, and they've already onboarded to IBM, they're well on their way to being visible to all of these other buyers that are part of the IBM network," Cuomo explained. "And instead of taking 40 days, maybe it only takes five days."
Aggregating data to help fight the pandemic
Another blockchain use case focuses on aggregating valid data to help authorities fight the pandemic. The idea is to tackle one of the main problems that scientists and researchers face when trying to map and contain the crisis, which is the lack of integration of verified data sources that can be used with confidence.
To help solve this problem, the IBM Blockchain team joined the MiPasa project, from enterprise-grade blockchain platform Hacera, in creating a verified data hub.
"With MiPasa being a data hub for verified information related to the coronavirus, [it is] really laying a foundation now for a new class of application that can mash up information to create new insights," Cuomo explained. "Perhaps applying artificial intelligence and machine learning to really look not just at any one of those data sources, but now to look across data sources and start to make some informed decision."
A third application of blockchain in this pandemic is for digital identity verification. "You're working remotely; you're using tools like Zoom; there's a huge spike in calls and online requests from telehealth or government benefit programs," Cuomo said. "So, this is all happening and everything behind the scenes is: 'Is this user who they say they are?'"
The Verified.Me solution by SecureKey Technologies Inc., which runs on IBM Blockchain, aims to facilitate identity verification. It allows users, through a mobile application, to invite institutions to represent and verify them. Users control their own information and the terms and conditions under which it will be used.
"The provider doesn't know who the requester is, requester doesn't know who the provider is — that is double blind. And then the network provider doesn't know either," Cuomo explained. "But somehow trust is formed, and that's the magic of blockchain, allowing that to happen."
5/4 to 5/7, 2020
https://www.ibm.com/events/think/
Acquire first-hand and hands-on experience with the latest advancements in open technologies from hybrid multicloud blockchain to data and AI – then meet the luminaries who are using them to transform our lives.

Join Chainyard at the conference for a curated experience that meets your needs.
This article was originally published on due.com  and republished on NASDAQ
To everyone's great frustration, the course of COVID-19 and its enduring economic impacts look unpredictable. As companies rush to aid the COVID-19 response or fight to keep their doors open, they require trust in suppliers and partners and transparency into supply chains and contractual obligations. Luckily, blockchain excels on both fronts.
The article suggests three strategies to effectively add blockchain to your own recovery effort.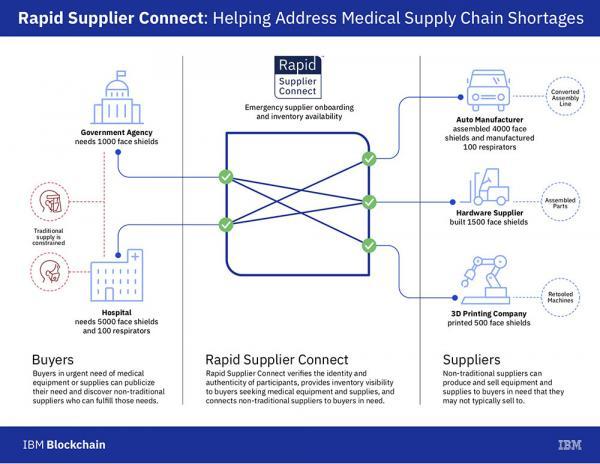 Real-time insight into a volatile and uncertain supply chain is never simple, and with the challenges of the current global situation, IBM harnessed the Trust Your Supplier blockchain-based identity platform built by Chainyard™ for qualification and identification, in conjunction with its existing Sterling Supply Chain Suite and highly scalable Inventory Visibility microservice to deliver this increased visibility.
This article was originally published at Linkedin
The Covid-19 pandemic has caught the entire world by surprise causing widespread destruction in the public health care apparatus including sickness and death, disruption of the economy and the global supply chain, and the everyday way of life of the common individual. No one would have imagined that hand sanitizers and masks would become an essential items to stock at home or carrying vast supplies of face masks and ventilators at hospitals. It also revealed that reliance on one single country as the intermediary and sole source for all the supply chain needs can bring entire companies to a standstill.
The disruption in supply chain has given rise to fraudulent enterprises dumping fake products into the market, price gouging of basic essential items and creating an artificial shortage of groceries, food and essential commodities. A bustling and vibrant economy like the United States has been brought to its knees in a span of a few weeks with soaring unemployment at over 6 million and a government bailout in trillions of dollars.
Not all is bad as the pandemic has had some positive side effects too. The air quality across the globe has improved. Beijing has seen clear blue skies after many years, residents of Jalandhar in India were given incredible views of the Himalayan Dhauladhar range not seen in many decades, the importance of sanitary habits and keeping the environment clean has been realized by many populations and the honking of vehicles has dimmed to give one the melody of chirping music.
I have been watching all the daily White House briefings, plenty of news, thousands of WhatsApp forwards, and reading many articles about the crisis. The focus of this blog is on what are the possible post-Covid-19 impacts and the role of technology, including how Chainyard is contributing. With every crisis, there is new opportunity as many have written. Ali.com, JD.com, Uber, Venmo, Netflix, Airbnb, Groupon have all been born during down turns.
In my opinion a few key technology areas that include Blockchain, AI/ML, Hybrid Mobile Apps and IoT will play a significant role in shaping the post pandemic decade. As the economy readies to reopen, we are already seeing some changes. For example, Emirates is requiring passengers to have blood tests as a requirement, while some governments are contemplating proof-of-immunization to go back to work or get entry into public facilities.
Let us briefly explore how technology is or will play a role in future.
Blockchain has gained prominence during the crisis.
The blockchain provides key capabilities such as
Immutability of Transactions
Smart Contracts that can execute business logic, generate alerts and notifications
Trust and transparency through consensus protocols
Cryptographic methods for identities and transaction verification
Self-Sovereign Identity and the use of the verifiable credentials protocol
Several solutions that leverage self-sovereign digital identity, track and trace, and supply chain are already in development or existing solutions are being modified. Chainyard, IBM, Evernym, VitalHub, Emerge, Nym, Public Health Blockchain Consortium, Hyperchain, SpreadLoveNotCorona, Mediledger are few of the companies that are engaged in blockchain based solutions. These include anything from contact tracing, distribution of donations, securing individual privacy and traceability of pharmaceutical products in the supply chain. Self-sovereign identity will play a key role where individuals will be responsible for managing their identity and claims, and providing proofs to substantiate them.
Boost to Explainable AI and Machine Learning
AI is being used to sift through various past research on molecular compounds and their past behavior to identify potential cures. AI and chat-bots assist the public by answering questions about the Covid-19 testing and treatments, providing insights and making recommendations. They can be effectively utilized in tele-medicine, remote diagnostics, research on new cures and predicting future outbreaks and their mitigation.
AI has been successfully exploited to identify patterns in the spread and predict the impact of the Covid-19 virus by combining publicly available data, government and other private sources, social, hospital and GIS information. Many companies are offering dashboards and insights. Notable ones I have been following are Johns Hopkins, University of Virginia and SAS.
Claim-8, a company I got to know that has gone further by overlaying Covid-19 analytics including additional data generated by existing super-clusters of computation to develop indices and derivative products that generate human actionable outcomes to provide supply chain insights in addition to Covid-19 related dashboard information. MiPasa, an initiative kicked off by Hacera along with IBM and Oracle is aggregating data on a global scale from various sources to provide insights that enable a swift and more precise early detection of Covid-19 carriers and infection hot spots.
IoT and the role of sensors, cameras, personal wearables, and gadgets such as drones and robots
IoT devices can work in concert with Blockchain, AI and mobile technology to deliver a connected experience on a trust platform. I would not be surprised if the security scanners at airports such as magnetometers and x-rays are augmented to include healthcare sensors like digital infrared thermometers,  or the enhanced fingerprint kiosks to additionally measure body temperature, conduct instant blood tests and perform contact analysis. Connected digital infrared thermometers combined with AI could provide visualizations about hot spots or emerging outbreaks and provide alerts to hospitals and patients. Ramco Systems has announced a solution that combines bio-metrics and temperature sensors. Sensors combining facial recognition, clock time and temperature are used to enable employee access to the workplace via the security doors.
Supply chain concerns have grown as countries struggle to source vital supplies
Theseus from Emerge and Claim-8 from NewBureau are both working on supply chain solutions that track, trace, and optimize the global movement of goods to prevent fraud and counterfeiting. They combine QR tags, RFID, and smart sensors to achieve complete and near-real time visibility into shipments from manufacturer to final destination. Smart contracts validate data from sensors on cargo as the freight moves to detect violations of geo-fence, altitude, tilt, light exposure, acceleration, force, temperature etc. and send notifications about the shipment.
Wearable technology such as those from Oura or CloudMinds are being tested to understand the individual's health and connect them to healthcare providers and other services. Robots have been deployed to sanitize public spaces, prepare and deliver  food and monitor social distancing.
Drones have been able to conduct aerial surveys, deliver food and medicines, sanitize large areas and gather information to support analytics. Kazakhstan is using Terra Drone drones to patrol the capital city during the Covid-19 lockdown. According to a number of sources, Draganfly is working with healthcare data services firms and researchers across to deploy drones in Australia and the US. The proposed "pandemic" drone would be able to fly over people and identify their temperature and respiratory conditions, helping to limit infections.
Identity solutions will become more prevalent
People carrying digital wallets on their mobile phones to store credentials such as immunization records and virus testing results will become a norm. Quantum Materials Corp (QMC) has a blockchain based QDX HealthID for transparency in disease testing and immunization from infectious diseases. Combining tags using nano-particles which emit different colors when illuminated by light, they authenticate the the individual, the test administrator and test kit, and the immunization record. Chainyard, ProCredEx from HashedHealth, Evernym and many others are testing similar credentialing solutions.
To summarize the post Covid-19 era …
If we were to categorize the areas of impact and what changes can be expected post pandemic era, it will probably look as below.
Workforce Management – Working remote, workload-based labor deployment, assessing contact tracing during work, conferencing versus face-to-face meetings and requiring proof of immunity or temperature check before entering the workplace
Public Health – Temperature checks, mandatory annual immunization, social distancing and contact tracking, proactive health screenings
Consumer Behavior – Purchasing online, more cash at home, support local products, stocking of essential items such as masks, hand sanitizers, gloves etc., constant risk assessment, remote or distance education, use of conferencing tools even for  socialization
Mobile Apps – (Wireless, Wifi, NFC, Bluetooth) mashups combing traditional social networking apps with government and other public service apps to tackle future disasters at scale including pandemics, fires, hurricanes, cyclones
Shifting of supply chain – reactive to pro-active, from off-shore to in-shore, out-source to in-source, shareholder value to employee value, use of robots in manufacturing and moving away from single source and risky countries
Life Sciences – drug research development and in-shore manufacturing, leadership in innovation, pro-active research, local manufacture
Climate Change – possible periodic lock-downs across the globe to reduce carbon emissions and nitrogen concentrations in the atmosphere, improve quality of health without the huge mega ideas
What is Chainyard's contribution to address the crisis?
A specialized blockchain company, providing Hyperledger Fabric and Ethereum based solutions to several Fortune 500 enterprises and our flagship solution "Trust Your Supplier" has already started transforming the way enterprises manage their procurement process. TYS is a joint venture between Chainyard and IBM.
In order to jump in and get involved with the Covid-19 crisis, the first thing we did was to help Miracle, a Volunteer Non-Profit Organization, extend a disaster management solution we had built earlier to have features that enable individuals to register for a Covid-19 test in the app at any of the registered centers within a certain radius to their location. The disaster management solution brought together volunteer organizations, volunteers, resource providers, distribution centers and donations together on a common platform to have efficient communication and distribution of services and goods. Obviously, there are so many families needing supplies such as soap, hand sanitizers, toilet paper etc. and with the lock-downs in place, it is indeed difficult to shop around.
In addition, we are testing another solution based on the Self Sovereign Identity and verifiable credentials protocol to issue or verify claims by individuals about their health. This can enable a number business and public facilities to allow individuals to work or enter public places. Users can simply present a QR Code of their claim that can be scanned by a Relying party to verify the claim and enable services.
Lastly, we are working on a solution that enables "Rapid Covid Response" along with our partners, leveraging our TYS technology that has been in production for quite some months now.
This article was originally published on Forbes.
IBM is turning to their blockchain networks to strengthen their supply chain.  IBM Food Trust, TradeLens and Trust Your Supplier are being leveraged during the COVID-19 pandemic to source with trusted suppliers, purchase quality goods, and ensure on time delivery of goods.
4/7 to 4/8
https://www.blockchainresearchinstitute.org/blockchain-revolution-global/
Blockchain Revolution Global (BRG) is the world's premier enterprise blockchain event, dedicated to educating, informing and inspiring business and government leaders to accelerate the blockchain revolution.
At its inaugural conference in April 2019, BRG brought over 1200 of the world's foremost business leaders, researchers and technologists together from over 20 countries to Toronto, the city at the heart of the revolution. The two-day conference featured through-provoking plenaries, panels and workshops from over 120 industry leaders and researchers.
Join Chainyard at the event to learn about the solutions we are building with our customers.
4/7 to 4/8
https://lp.futureblockchainsummit.com/exhibit-in-2020/?gclid=CjwKCAiA0svwBRBhEiwAHqKjFidD6OXG57UoZu7axSokVz9wGUV2sdMlbMEPGhCh2Thl49QJCsV9-xoCS9kQAvD_BwE
The world's leading and largest government hosted Blockchain festival, Future Blockchain Summit is back for a third edition hosted by Smart Dubai, from 7-8 April 2020 at Dubai World Trade Centre. The city of Dubai is mandated to have all government transactions on the blockchain by 2020 and will be the world's blockchain capital. Future Blockchain Summit is the official Blockchain event of Smart Dubai, the driving force behind the UAE's Blockchain Strategy and is bringing together global enterprises, blockchain startups and government entities at the summit to make this dream a reality.
Join Chainyard at the event to learn about the solutions we are building with our customers.
3/24
Bringing out the top businesses and ICT professionals together in one event can make a huge difference that will lead to acquire different insights and sharing expertise on most up to date occurrences. Meet ICT Conference drives numerous activities in various platform that will amplify the experience of participants and empower them to exchange their knowledge and expertise.
Join Chainyard at the event where we will be presenting information about our Governance Framework.  You can spend some time with us to learn about the solutions we are building with our customers.
This article was originally published on American Express
Successful company leaders in the 21st century fear becoming obsolete. High-profile examples from the past 30 years drive those fears. As an industry, video rental stores are perhaps the most famous example: People once thought these chains too big to fail, but the industry didn't foresee mail-order rentals and video streaming services as serious competitors to retail business. As a result, brick-and-mortar video retailers have faced a cascade of setbacks that led to bankruptcy for at least one former giant.
Today, blockchain is the technology that's changing business as we know it. While many companies fear obsolescence, their apprehension about embracing change and emerging technologies may make that fear a self-fulfilling prophecy. We are on the brink of the next technological transformation—now is the time to embrace change and safeguard your business.
Why Companies Need to Adopt Blockchain Today
Fear of change is far more damaging than the fear of becoming obsolete. Although film and photography companies were quicker than video rental services to join the digital revolution, for example, some companies' business models struggled to adapt fast enough to thrive in a digital world. Though prominent brands haven't all disappeared, some have filed bankruptcy and shifted focus to providing services to corporate markets.
Failures like these haven't just stoked fear for today's companies, but they've also sparked the realization that companies need to be more open to adopting emerging technologies. In a 2018 survey conducted by PwC, 84% of 600 executives from 15 territories say their companies are involved with blockchain to some degree.
As the world embraces blockchain as an immutable data source and identity management system, consumers will start demanding that all companies provide the same privacy-based data systems. Blockchain is built to meet that demand, and a company's decision to build a network now or join one later is crucial to its long-term ability to be a leader in the new market.
4 Excuses for Avoiding Blockchain
If you've hesitated to adopt blockchain, you're not alone. Every business leader has his or her own unique concerns, but the following reservations are the most common.
1. Blockchain enterprise platforms are too immature.
As online video streaming was 15 years ago, blockchain is still an emerging technology. It will go through many iterations as it's tested against market vulnerabilities. According to a 2019 Gartner report, up to 90% of current implementations will have to be replaced within 18 months to keep up with those iterations.
It's true that early blockchain platforms had to converge and mature before they could be adopted enterprise-wide. Today, however, leading enterprise platforms are in a good state for prototyping business cases and evaluating revenue models with the launch of minimally viable blockchain ecosystems. If companies have realistic expectations about what blockchain can offer them in time, they shouldn't be apprehensive about making blockchain part of their strategies now.
2. Blockchain is only for large consortiums.
Because blockchain's greatest value lies in bringing entire supply chains together, the technology works best when it's applied across a large consortium of businesses. For companies that aren't part of or at the head of such a consortium, blockchain technology might seem like a luxury without much benefit.
However, there are many use cases for which blockchain is bringing tremendous value to ecosystems of all sizes. For example, several companies now use IBM's blockchain to streamline the procurement of contingent labor to reduce overhead in labor management. Such benefits are huge for smaller business networks.
3. Blockchain has no revenue potential.
You may see blockchain's immediate benefits yet doubt its long-term potential. But blockchain isn't just a new solution to integrate into existing systems. It's a platform that reduces fundamental data-sharing costs, automates mundane tasks, manages smart contracts and makes room for new revenue-boosting business models.
As the world embraces blockchain as an immutable data source and identity management system, consumers will start demanding that all companies provide the same privacy-based data systems.
Once a blockchain network is populated with members, those new models can be operated on top of it, with early adopters guiding that operation. Many project managers have difficulty visualizing this in the beginning, but a strategic consultant can help companies create a road map for planning and governing the growing network.
4. The entire company culture will have to shift.
One of the biggest reservations that companies have about adopting blockchain is that doing so will require an entirely new way of thinking. Current enterprise resource planning systems may restrict data within company firewalls, while blockchain requires a more open-minded approach. This kind of enterprise-wide cultural shift can take time.
However, the time investment is worth it. In some systems, entities throughout the blockchain ecosystem can submit queries about consumers' and other businesses' digital IDs to authenticate transactions. Once companies adopt it, they can substantially reduce the time and money they spend on record keeping and authentication procedures while facilitating adherence to regulatory requirements.
Those who hesitate to adopt blockchain may miss out on becoming network builders and reaping the benefits that come with leading a consortium. They may be left scrambling to join an already thriving network once doing so becomes absolutely necessary.